AWM&T Eased My Transition from the Military to Retired Life
January 11, 2023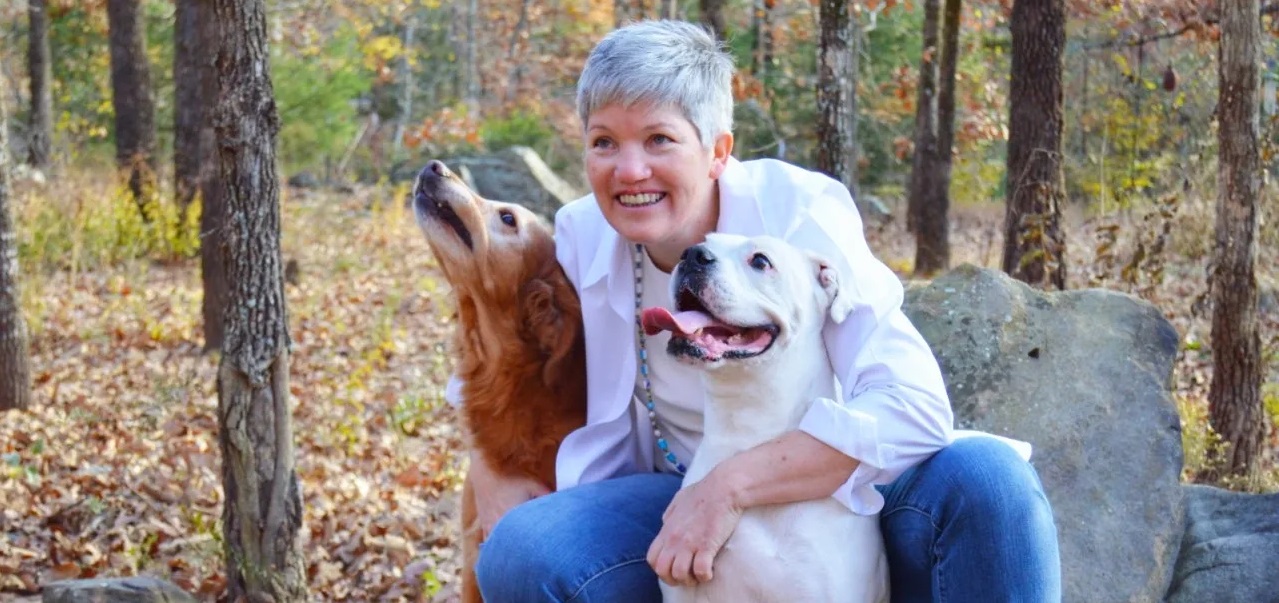 Col. Cory Sailor, with dogs Boomer and Hannah*
A Legacy of Service
I'm Colonel Cory Sailor. I'm a Logistics officer in the Army National Guard and am scheduled to retire with 32 years of service.
My dad inspired me to join the military. He retired as a Senior Chief (E8) in the U.S. Navy after more than 26 years of service. He taught me an important lesson at a pivotal point in life. I was born with a bilateral cleft lip and palate, and finally grew tired of fighting bullies who made fun of me. I asked, "Why do they make fun of me? Why do they start fights with me?"
Dad said, "You're asking the wrong question. You keep asking 'why.' You should be asking 'what.' What happened? What are you going to do about it? What are you going to do to keep it from happening again?" Finally, he said, "Honey, you're my daughter and I love you. What do you need from me?" I was 12 years old, and these four "whats" have stuck with me and gotten me through some difficult times.
When my dad passed away at the age of 47, I decided to honor him by serving those who serve, and not by asking "why," but by asking "what."
I've started my own 501(c)(3) non-profit, ITSO Fine Art. ITSO is an acronym for "In The Service of Others," and we are a group of artists who create commissioned artwork of dogs. All sale proceeds provide certified service dogs to Veterans and first responders.
As I like to say, "Dare to dream, share the dream, then sit back and prepare to be dazzled."
Making My Retirement Reality With AWM&T
I love my experience with the AAFMAA Wealth Management and Trust (AWM&T) team. They asked about my vision for the future, and what I value – it was a very organic conversation. Then the team developed courses of action to achieve my vision; it was almost like Operational Design.
I've been with other financial teams before, and I've left because I felt they valued the transaction over my goals. This isn't the case with AWM&T. Anthony Nemanic and Erin Kinkade recognized my apprehension and alleviated my fear of transitioning from the military to retired life in the civilian sector.
Because of them, there are two things that I now know. First, I know what to do to achieve my vision for my retirement. Second, I know that I can do it. This is why I have introduced them to at least eight of my friends and fellow servicemembers, and will continue to share my AWM&T experience with anyone who I recognize has the same apprehension and fear that I once had.
AWM&T Understands Veterans
Transitioning from a military career to a civilian retirement can be complex. Let us simplify your financial journey. Connect with your AAFMAA Wealth Management & Trust Relationship Manager at 910-307-3500 or wealthmanagement@aafmaa.com.
Originally published in AAFMAA Advantage, 2022.
*This testimonial was given by a current client, not paid promoters. Our client received no compensation for their comments, which generated no material conflicts of interest with AWM&T.
Related posts