Life after the Military: Making the Most of Your Retirement
August 24, 2023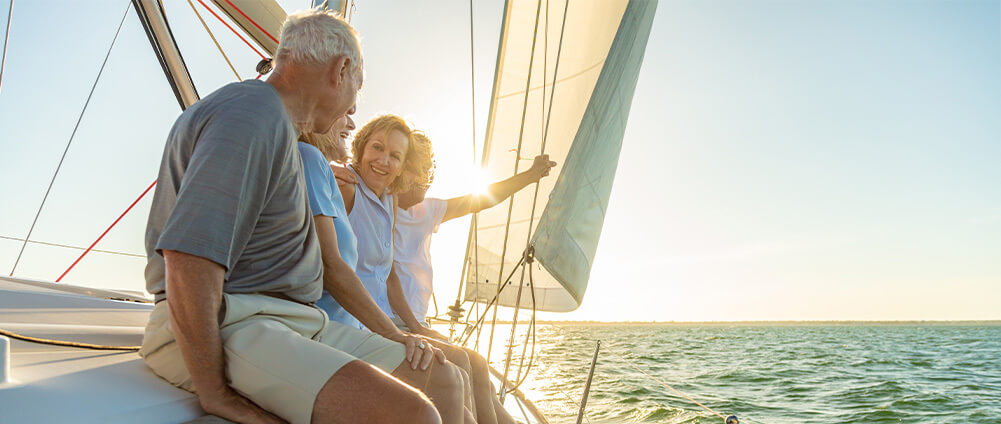 Retirement from the military marks the beginning of a new chapter in your life as you step away from your career as a servicemember. Make the most of your retirement by connecting with the military financial professionals at AAFMAA Wealth Management & Trust LLC (AWM&T) for insights and advice on maximizing your retirement benefits and crafting a solid financial plan tailored to your needs.
Maximize Your Retirement Earnings
Your service has earned you the right to a fulfilling retirement. One of the key aspects of life after the military is managing your finances wisely. You can start to maximize your retirement earnings by taking advantage of one of the two key programs offered by the military. For example, your military pension, which is based on your rank, years of service, and other choices made throughout your career, is available to you after 20 years of service. The Thrift Savings Plan (TSP), which is similar to a civilian 401(k), provides benefits such as a 3% automatic contribution each pay period, a 5% government match of the funds you contribute, and you are fully vested in two years.
When considering saving for retirement, you'll want a plan today that will reach your goals for tomorrow. Consider seeking advice from a financial advisor to make informed decisions about investments and to ensure your money grows steadily prior to and throughout your retirement years.
Create a Financial Plan and Define Your Retirement
Retirement means different things to different people. For some, it may involve traveling and pursuing passions, while for others, it might mean dedicating time to family and community. Define what retirement looks like for you and your military family, and create a comprehensive financial plan that aligns with your goals. Finding a financial planner who you and your spouse both trust and who also understands the unique aspects and benefits of military life, can ease the process for you. Your financial planner will guide you through considerations such as net worth, cash flow, insurance coverage, education funding, estate planning factors, and retirement plans. The best way to get started is by reaching out to an AWM&T Relationship Manager.
Prepare for Tax Changes and Take Care of Your Loved Ones
As you transition to retirement, be aware of potential tax changes that could impact your finances. Understanding tax implications, such as knowing which deductions and credits you're eligible for and how to claim them, will help you better plan for your financial future. For example, when selecting your "forever home" after military service, you may wish to consider states that are tax-friendly who have no income tax and have the lowest tax burdens.
Additionally, ensure that your loved ones are protected by having a well-drafted estate plan. Consider creating a will or even a trust to ensure your assets are distributed according to your wishes, and your family is taken care of in the event of the unexpected.
Explore Military Benefits
Life after the military doesn't mean leaving all your military benefits behind. Explore those that are still available to you, such as VA disability benefits, pensions, and Social Security. Understanding and utilizing these benefits can significantly contribute to your financial well-being during retirement. Stay informed about changes in regulations and policies that may impact your eligibility for certain benefits.
Get Support
Transitioning to civilian life can be overwhelming, but you don't have to do it alone. Seek support from various sources to ease the process.
Utilize Health Benefits
Take advantage of the health benefits, such as TRICARE for Life, offered to retired military members and their families. If you do not have a civilian job with health benefits lined up before your separation, it is important to contact TRICARE about your options for continued healthcare coverage prior to leaving the service.
Get in Touch with a Financial Advisor
Engage with a financial advisor who specializes in serving military families. They can offer personalized guidance on managing your retirement funds and investments to secure your financial future.
Get Involved with Your Community
Staying engaged with your community can provide a sense of purpose and connection during retirement. Consider volunteering or joining local organizations to make a positive impact.
Keep in Touch with Old Friends
Maintaining relationships with fellow Veterans and military friends can be comforting and beneficial. They understand your experiences in ways that many civilians cannot, and can provide valuable support during this transition.
AWM&T Can Ease Your Retirement Process
Life after the military opens up a world of possibilities, and with the right financial planning and support, you can make the most of it. Embrace this new chapter with confidence, knowing that you have the support and expertise to build a secure and prosperous future for yourself and your loved ones.
AWM&T is dedicated to assisting military families like yours with personalized financial planning solutions. From managing retirement benefits to crafting investment strategies, we offer a comprehensive range of wealth management services to meet your unique needs. Take charge of your retirement planning today by contacting an AWM&T Relationship Manager at 1-910-307-3500.
Related posts