9 Ways to Strategize Your Tax Refund as a Military Family or Veteran
March 30, 2023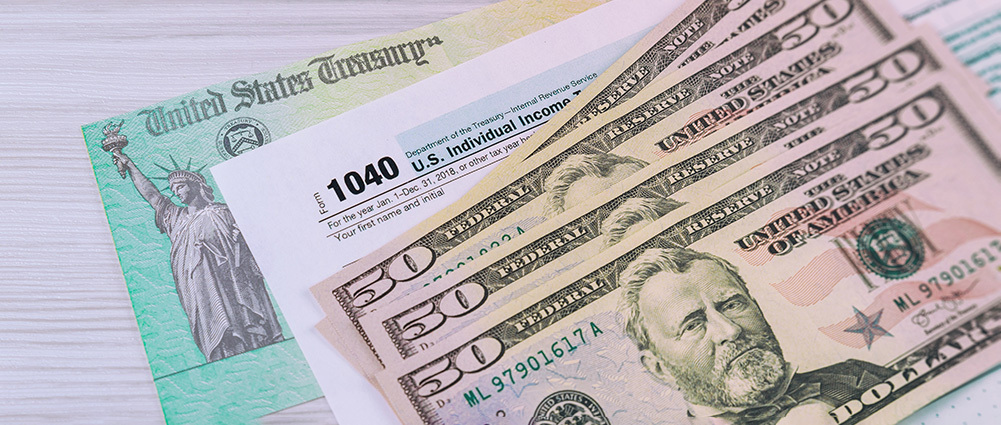 Tax season is coming to an end, and you may be anticipating a tax refund. As a military family or a Veteran, it's best to strategize any financial move, including the use of bonus funds, so that your money will benefit you and your family in the long run. Here are a few tips and suggestions from the military financial professionals with AAFMAA Wealth Management & Trust (AWM&T) to help you maximize your family's tax refund.
Tax Refund Ideas for Military Families and Veterans
1. Pay off debt. According to Military.com, 27% of active-duty servicemembers have more than $10,000 in credit card debt, compared to just 16% of civilians. This can be due to challenges of the lifestyle, including expenses associated with frequent PCS moves, and employment issues for military spouses. If you're carrying credit card balances or have outstanding loans, use your tax refund to pay off as much debt as possible. This will free up your regular income to spend as part of your monthly cash flow, and may improve your credit score.
2. Establish or increase an emergency fund. Murphy's Law states that anything that can go wrong, will. Many military families discover that this is particularly true during a deployment, TDY, or a PCS. Unfortunately, a large number of families do not have enough savings to cover car repairs, emergency trips home, or any other rainy-day scenarios. According to a Federal Reserve Board report on the Economic Well-Being of U.S. Households, 32% of Americans would have to borrow or sell something to cover an unexpected $400 expense. Utilizing cash windfalls, such as a tax refund, to position your family for financial success, even in the worst of times, can be a great help.
3. Prioritize your health. Depending on your healthcare coverage, you may have put off medical exams, new glasses, contacts, or dental aligners. Consider applying your tax refund to supporting the healthcare needs of yourself or your family. Another option could be to improve your physical strength and well-being by joining a gym, hiring a personal trainer, or purchasing workout equipment for your home gym.
4. Pursue a hobby. If you've considered taking up something new, like a martial art or a dance class, your tax refund is a great way to get started. Maybe you've been curious about playing pickleball and you're ready to buy your first paddle, or you're looking to get back into cycling and want to upgrade your equipment. The sky's the limit. No matter what point you've reached in your career or life, now's the perfect time to enjoy the fruits of your labor — especially if you're in your golden years of retirement.
5. Seek professional and personal development. Consider applying your tax refund to webinars, professional or personal development books or conferences, or take classes and obtain certifications that further your career. If you're an entrepreneur, consider using the funds to purchase new company equipment, refresh your website, or outsource certain tasks to a freelancer.
6. Explore Financial Options. Invest in yourself by putting the money toward your retirement, a Certificate of Deposit (CD), mutual funds, or in other interest-bearing accounts so that you receive a return on your investment. If you're looking for assistance with investment management, AWM&T's military money professionals are happy to assist you.
7. Take a trip you've always dreamed of. Whether it's a local staycation, a cross-country adventure, or international travel, you can apply your tax refund to an experience that will make memories for you and your loved ones.
8. Give back to your kids or grandkids. If you're looking to give the children in your life more than just a toy that may break or they'll lose interest in, or in gift cards to their favorite gaming platform, you have other options. Consider purchasing U.S. Savings Bonds, opening a Uniform Gift to Minors Account (UGMA), or contributing to their college fund through a 529 Savings Plan or other interest-bearing account. Never underestimate the time-value of money and the power of compound interest. They'll thank you for it down the road.
9. Donate to your favorite charity. Have everything you need or want? Are your loved ones taken care of? Do you feel confident in your financial plan or retirement strategy? Then look at giving back to others. Giving makes us feel good and supporting your favorite cause is always a win.
Financial Solutions for the Military Community
Your tax refund can be a valuable resource to help you achieve your financial and personal goals. Use it wisely to pay down debt, build an emergency fund, enjoy yourself, take care of your health, and invest in those you care about. By making smart choices now, you can enjoy the benefits of your tax refund for years to come.
To discuss financial planning, investment management, and develop a customized, holistic strategy to protect your military family's financial legacy, contact an AWM&T Relationship Manager today. We'll provide you personalized service that puts your family's finances first. Speak to one of our military financial professionals, or give us a call at 1-910-307-3500, today.

Related posts